Special Kaye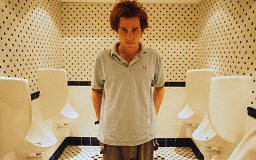 Welcome to Special Kaye!
Congratulations on finding the only website dedicated to the British actor/comedian Paul Kaye. You'll probably know him best for his cheeky Dennis Pennis character (R.I.P), but this site is about Paul himself. I salute you.
This Paul dedicated website is to my knowledge the only existing one, why hasn't there been one before this? Outrageous! However this isn't an official site, I don't think there is one, so this will be the best place to find all the info on everyones favourite grin-maker.
The first time I saw Paul was as Dennis Pennis on 'The Sunday Show', and later on in his series 'Very Important Pennis'. Since then I've been very interested in him and his work, I've looked all over for a website about Paul but I've never found one. He deserves one and more recognition which is part of the reason why I created this site. I hope I get some visitors, if you are one then enjoy it!
What a job I've had getting here, I originally started building a different Paul site back in the middle of last year, it was going really well. However, lots of errors occured and I couldn't get into my site to edit or publish it at all. I got fed up of waiting and started to build this one instead, which just happens to have turned out better.
I
f you have any information you haven't seen on this site whi
ch you would like to contribute then
email me!
Join my Paul Kaye club, click the image above to go there!
last updated: 18th September 2001
founded: 28th May 2001
This is an unofficial, non-profit fan site.
Top Paul picture copyright of
corbis
This site is best viewed if your browser is Java enabled