Special Kaye
Mike Strutter
(just don't call him a 'nana')

"You up shit creek? I'm your fucking paddle"
"you got gwief? I'm ya bwief"

Mike the lawyer
This is Mike Strutter, pronounced 'Stwutter'. He is the foul-mouthed, curly haired L.A. lawyer who appears in the Dennis video - 'Too Rude To Live' and his own vid - 'A Star Is Porn'. He's based loosely on Sean Penn's character in 'Carlito's Way'.
His debut came in the Pennis series. He was an attorney in an advert for people with legal problems looking to sue companies.
"you wanna kick some butt you call the strut"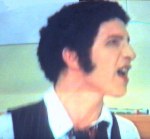 He also featured heavily in the 'Too Rude To Live' video as a Pennis protester's lawyer. Infact he's one of the main characters in the video. A lot happens in it but I'll try to explain here. If you don't want to know what happens in the video and the outcome then don't read the following!

The protester Tony Cream
The events in the video are all about the Pennis backlash starting and how Dennis ends up murdered. Film maker Lloyd Richmond is shown at the beginning in Cannes where Dennis is hunting for celebs. Lloyd rambles on for a bit about film-making, comparing it to a peach and then recreates an Indiana Jones scene. We then go to the BBC Studios where we see the people who object to Pennis. These are the odd and gay father and son, Tony Cream and Anthony Cream Junior. Their actions and the events that follow are documented by reporter Jenny Puss. The father and son start a violent protest at the BBC Studios and it gets worse from there.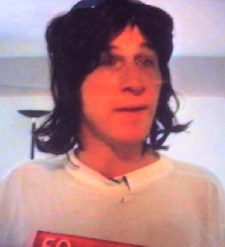 Lloyd Richmond in Cannes
Lloyd again wearing the Hollywood cap he loves
We're then introduced to Dennis' agent - Brian Munich (geddit?), who has had numerous attacks made upon his office by Cream because he is in relation to Dennis. The police then try to establish a link between Cream and the attacks (pretty obvious though isn't it?). Retired goal keeper Ken Touken is also managed by Munich, who later on is considered as a replacement for Dennis.
Brian Munich Dennis' agent
Next Mike appears. He talks us through his range of personal executive accsessories for the office - 'Strutter Gear'. Items available include a 'Bleeper System' to edit any swear words Mike might blurt out, (it's suprising it isn't one big bleep that comes out of his mouth), a 'Turd Sensor' to stop any unwanted odors, a 'Novelty Pipe' and a 'Suicide Note Machine', if you kill someone it can make the whole death look like suicide. Mike was Tony Cream's lawyer when he went to court for trying to burn his son to death. Cream wanted it to appear as though he had been driven to it by Dennis Pennis.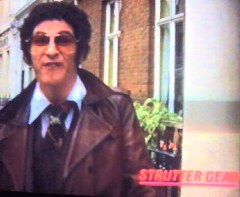 Mike visits Tony while in prison to try and get him out secretly, it doesn't work though. Whilst talking, Tony acidently calls Mike a 'nana', as in banana, which really infuriates Mike. If anyone calls him it more than once, he has to kill them. Tony, knowing this informs Mike that Dennis has been going round town calling him exactly that. Tony wants Dennis dead and Mike is now prepared to murder Dennis for his name-calling.
After some Pennis clips, we see Dennis in a limo talking with a show-bizzy accent to Jenny Puss, the reporter who's interviewing him. They talk about how Dennis won't sell out and Dennis calls Mike a 'nana'. Suddenly a Dennis rip-off interviewer sticks his head into the limo to take the piss out of Dennis. A gun shot is fired from afar intended to kill Dennis, the person with the gun misses and kills the Dennis impersonater instead.
The next character we are introduced to is the Arsenal fan composer Labian Quest who puts together football chants for Arsenal fans. He is interviewed by a host from the show 'Artshole'. We hear some of his chants such as:
"You're going to get your fucking head kicked in,
You're going to get your fucking head kicked in,
You're going to get your fucking head kicked in"
Also:
"Fuck 'em all, fuck 'em all,
United must have Liverpool
'Cos we are the Arsenal, we are the best,
We are the Arsenal, now fuck off the rest,
Fuck 'em all".
A talk show about the disappearence of Dennis then takes place hosted by the TV columnist 'The Quill'. Guests include Brian Munich, journalist Matthew Wright and a bandaged up Anthony Cream Junior. It is revealed by Brian that Dennis is hiding secretly as he fears for his life after calling Mike a 'nana'. All the guests think that Dennis is finished and the retired European goal-keeper Ken Touken, will replace him by asking celebrities to shoot a football into a goal he carries around with him. A video clip of secret footage showing Michael Winner and Dennis talking is broadcast. Michael is giving Dennis two grand to ask him questions on Tuesday, it is revealed that Dennis is a fraud.
Meanwhile Pennis is sat at home, fat, with long-hair, watching the interview on TV, he's finished for good. Mike Strutter gets into his house, creeps up on him, takes a microphone from the floor and murders Dennis with it. Jenny Puss reports the death of Pennis on TV the next day and says all that was found was a suicide note saying "Mike Strutter had nothing to do with my death". The last we see of Dennis is in a graveyard, his arm shoots up from his grave clutching a microphone, as he is about to come back to life, however Tony Cream runs over his grave in a mini-tractor. And that's the end of Dennis.
Make sure you see it because the characters are fantastic, especially Mike.
Thanks to tintin for the screen grabs!