Special Kaye


Dennis on Video

Here we take a look at the Dennis videos that have been released.


This is 'Very Important Pennis Uncut', my favourite Dennis video release out of them all. Many ran from the proud Pennis, but he always got them in the end as you may well know. This video has 16 minutes extra footage which has never been shown on TV, and it's really funny.

Dennis travels to Cannes, Hollywood and Venice to catch some of the biggest names, Arnold Schawrzenegger being the largest. Other victims include - Dennis Hopper, Kenneth Branagh, Emma Thompson, Mel Gibson, Joan Collins, Tom Hanks, Cher, Richard Gere, Jim Carrey, Steve Martin, Sharon Stone, Cindy Crawford, Jeff Goldblum, Frank Bruno, Damon Hill, Chris Eubank, Andrew Lloyd Webber, Tony Blair and lots others I can't remember.


It's an all round excellent Dennis video but my favourite parts were when Dennis went to his workplace, the BBC, to give us a tour with his video diary and generally cause havoc. It's very funny, especially when he's in the lift, if you get the chance to see it, then make sure you do, you'll know what I'm talking about then.

After stealing from the BBC cafe and calling people in lifts "nosey bastards" when they ask which floor he's going to, Dennis then visits the Blue Peter Garden. He makes a big mess and gives the statue of a dead Blue Peter dog a blow back with his spliff, not to be missed. Another of the highlights is the very first Dennis appearence on the streets of London where he talks to the public. It's so entertaining with Paul proving what a comical talent he really is.

If you're looking to buy it then the cheapest place is Amazon here in the UK and is very reliable. I bought all my Paul videos from here and haven't seen them for cheaper anywhere else, also the delivery is quite quick. To go to the Dennis page at Amazon click the video cover above.

Video Information:

Title: Very Important Pennis Uncut
Running time: 64 mins approx
Starring: Paul Kaye
Written by: Paul Kaye & Anthony Hines
Producer: Lucy Robinson
Catalogue number: BBCV 5943
Released: 1996
Certificate: 18

Back view


This is 'Anyone For Pennis?, the earliest, I think, of all the Pennis videos. This one doesn't have any extras, it was transmitted originally: 15.9.95. It's not on for very long, 28 minutes approx, but it is again, very funny.
Some of the best Pennis moments are captured, including ones with - Madonna, Ian Botham, Tom O'Conner, Selina Scott, Barry Norman, Tony Benn, Michael Howard, Michael Winner, Liz Hurley, Ulrika Johnson, Paul Daniels (who actually believes Dennis is really American), Clive Anderson, Edwina Currie, Alan Hansen, Angus Deayton, Richard Branson, and Peter Stringfellow.
One of my favourite moments included is the Alan Hansen one, Dennis backs up his accusastion that Alan is in league with the devil and a satanist very well - "You were uncomfortable with crosses". He also causes Madonna to cut a press interview short when he asks to see a book brought out of her internal organs. Even though it's short, it's worth having. To view the video details click the video cover above.
Video Information:

Title: Anyone For Pennis?

Running time: 28 mins approx

Starring: Paul Kaye

Written by: Paul Kaye & Anthony Hines

Producer: Lucy Robinson

Catalogue number: BBCV 5806

Released: 1995

Certificate: 15
Back view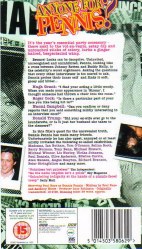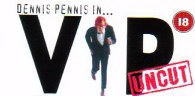 This is the final Dennis video that was released - 'Too Rude To Live'. I wasn't too keen on it until I saw it the second time round, if you forget that the main focus is supposed to be on Dennis then it's more enjoyable to watch because the attention is mainly on other characters.
There were some really funny and interesting characters in this, most of them played by Paul. Mike Strutter's involved with it, the dominating mulleted movie director Lloyd Richmond of 'Million Dollar Films', also Dennis' agent - Brian Munich, an Arsenal fanatic composer who puts together football chants for the fans called Labian Quest. Also an angry protester Tony Cream, with his son Anthony Cream Junior who call Dennis "a talentless punk rocker from 'la-la' land" (is that an insult?!), all these characters but one are performed by Paul.
There's some never seen before celebrities being Pennised; Michael Jackson, Michael Heseltine, Archbishop of Canterbury, Michael Portillo, Princess Anne and Michael Winner. Also if you look hard enough you'll notice that real-life producer Lucy Robinson and co-writer Anthony Hines appear in the video.
The video is about the death of Dennis and the backlash that builds up against him, mainly caused by Tony and his son, it's all fiction apart from when he's Pennising celebs. It has over fifty minutes never been shown on TV which is appealing because it will probably never be shown on TV ever! It is funny but it got dark towards the end where Mike murders Dennis, all a bit weird but I still enjoyed it. It's quite good but the other videos are better in my opinion. It was probably done to end Dennis completely forever but I think Dennis should have been left the way he was after two videos. To buy it, you know it makes sense, click the video cover above.
By the way it's extra special if you get this video because you get a free Dennis poster! Ooooooh, make sure yours is included.
Video Information:

Title: Too Rude To Live

Running time: 58 mins approx

Starring: Paul Kaye

Written by: Paul Kaye & Anthony Hines

Producer: Lucy Robinson

Executive Producer: Brian Klein

Catalogue number: VC6586
Released: 1997
Certificate: 18
Back view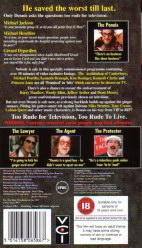 Although Amazon is cheap, the Dennis videos are not always in stock,
HMV
is the second best option.
If you want to view any of the Pennis video details then click
he
re
. Type in the words 'Dennis Pennis' as your search and the appropriate information will be displayed.
If you want to submit a Dennis/Mike video review, then email it to me
here