Special Kaye


Interview

Here's an interview with Paul I found, it was done when Dennis was still going, it's quite amusing so read on.
Where and with whom do you live?
I used to live on Bono. However, I'm currently living on The Edge amongst a colony of pretentious fleas and a couple of hairs in dire need of a bit more Pantene...
Are you a natural redhead?
I am, although I've currently got blue pubic hair due to a defective fountain pen in my left trouser pocket and clumps of bleach blond back hair.
Does it (your hair) cause colour clashes in your designer wardrobe?
What's a colour clash? I don't really understand the question. Although you are right, I do have a designer wardrobe - doors by Gaultier, a classic Westwood mirror, a Versace sock drawer and a pair of stunning Ann Summers' moth balls.
Now you're a media mover and shaker, is there a queue of supermodels lining up for your body? Who'd be top of your list and why?
I tend to attract male models: many of them seem to be intrigued by a full grown Pennis with balls. Helena Christiansen would be top of my list, 'cos models get a raw deal about being dense and lacking wit and here's a woman who's not frightened to prove it.
What do you wear in bed?
Suede chaps and a wry smile. And a deer stalker on a cold night.
Where did you find your Chopper? Is it a customised model?
I bought it brand new last year from a guy in Bethnal Green - and boy, that was my lucky day! Apparently they are the latest thing in America and they're really gonna take off next Summer. Remember, I was the first one to get one in England.
In your expert opinion what's the difference between famous people and nobodies?
Five hundred grand, two chromosomes and a paper doily on the back of your plane seat. Anyone can be famous, the challenge for me is to be nobody. I don't know whether I've got it in me, but I'm working on it.
Celebs are always turning their backs on you. In your view, who's got the nicest bum?
Will Carling's got the nicest arse, but unfortunately for him it happens to be below his mouth.
You're so mean to celebrities. Isn't there one that would make you go weak at the knees and reduce you to a fawning lump?
I don't think so, but I'd think twice about interviewing Gerry Adams.
Are you as mean to Mrs Pennis?
No, not really. I give her a couple of quid every now and again.
Do you have a pet?
No, but I have several pet hates - interviews, interviewing, Tottenham, Spurs, THFC, lager, White Hart Lane, Cockerels and bad manners (but I loved The Specials).
What's the next move in your glittering media career plan?
I think it's going to be music. My agent recently said something about UB40.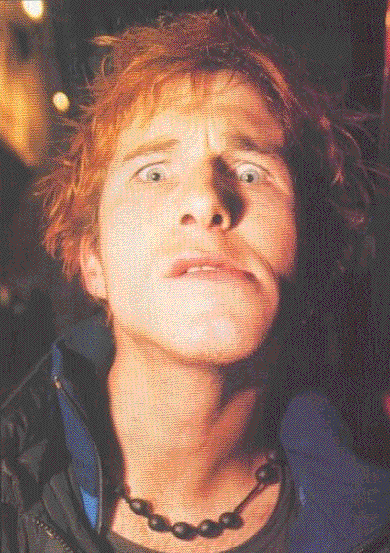 Dennis profile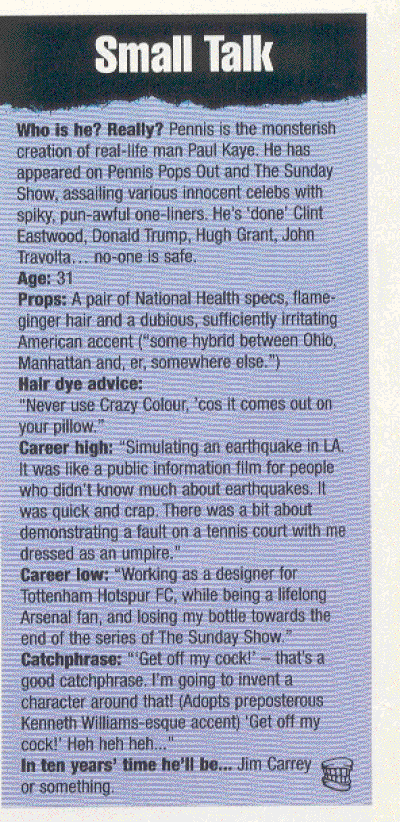 Paul Interview