Special Kaye


About Me



This is the bit where I tell you a bit about me. Firstly I'm not a stalker obsessed fanatic convinced I will marry Paul! No definitely not, I just love what he does, think he's a great talent and I'm interested in him.

I'm called Sam (female) and live in the North East of England near the sea. I've been building this site on my own for quite a while now so I really hope you've enjoyed it and found it informative and perhaps entertainning. This Paul site is the first so any other Paul websites you might see looking very similar to this, well you know who's copied! I've spent a lot of of time on this and put a lot of work into it, I've found everything included in the site myself by looking through numerous search engines etc. so I really hope it's good.

My main love in life is music, just a few of my favourite bands are - Blur, Oasis, Sex Pistols, Charlatans, Smiths, Stone Roses, Shed Seven, The Jam, The Clash, The Specials. There's far too many to mention really!

This Week I Have Been Mostly Listening To:

STILL Blur: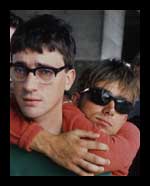 Jamiroquai:



Stone Roses:



Oasis: