Special Kaye


Mark Owen's Celebrity Scooters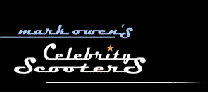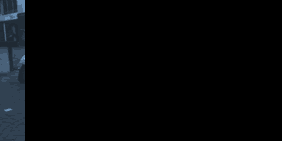 Last year 'Mark Owen's Celebrity Scooters' was shown on the digital channel BBC Choice. The programme followed Mark and various other celebrities traveling through the eight cities of Euro 2000. They'd play football in each city and take in the atmosphere. Sixteen celebrities in all made up the travelers, Paul being one of them.

The eight cities in order were:

Brussels

Liege

Charleroi

Bruges

Eindhoven

Arnhem

Rotterdam



Meet the Travelers

This of course is the musician Mark Owen, former member of arguably the biggest boyband of the 90s, Take That. Vegetarian Mark has finished making his second solo album, which he produced at his house in the lake district. His pets include a dog and tropical fish. When not recording Mark enjoys shopping in New York for clothes.

Lisa Rogers is an obsessive Arsenal fan and presenter on the Play UK channel. She also played a lap-dancer in the TV version of 'Lock, Stock and 2 Smoking Barrels' shown last year. Lisa is described as "down to earth" by her travel friends, one of which was Ralf Little who is also her boyfriend.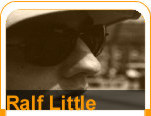 This is actor Ralf Little, at 20 when on the journey he was the youngest of the travelers. He is funny and probably best known for his character 'Anthony' in 'The Royle Family' BBC comedy. He has recently finished starring in the film '24 Hour Party People', with Simon Pegg, John Simm and Steve Coogan, look out for it! Ralf has also done some presenting on British MTV and is an accomplished horse rider.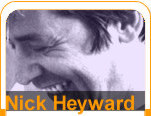 Nick Hayward is a singer/songwriter previously in the band 'Haircut 100' (remember them?). He currently lives in California where he has written his first book of poetry and recorded a solo album. Nick joined the gang in Bruges.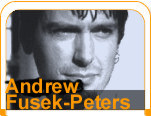 Andrew Fusek-Peters is Britain's tallest poet at 6'8". He plays the didgeridoo and is also a performance poet. Andrew has written over twenty books! He joined the travelers in Brussels and Liege.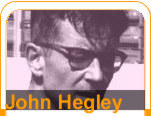 Here's John Hegley, a comedian, performer poet with six novels under his belt. He loves football (he supports Luton Town) and dogs. John joined the gang for cities Charleroi and Burges. He entertained his fellow travelers by performing his poetry on a few occasions and actually wrote a few poems while on the journey.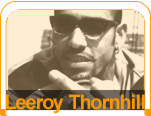 You may well know this man, it is of course musician Leeroy Thornhill, ex-band member of The Prodigy (woohoo!). Leeroy is now a solo artist and has brought out some of his music. Leeroy stayed for quite a few cities, Liege being one of them.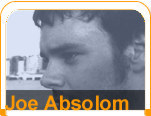 This is Joe Absolom, previous member of the EastEnders cast. He lives with his parents in South East London. Ramsey is the name of Joe's indie band and he's a massive Charlatans fan (good man!). Charleroi and Bruges were the cities Joe joined for.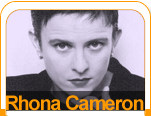 Rhona Cameron is a Scottish standup comedienne who has also had her own TV comedy on the BBC. Rhona joined the travelers for Rotterdam and Amsterdam.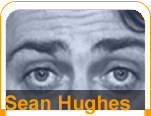 This lovely Sean Hughes, Irish comedian and author. Sean has been involved with comedy and TV shows for ages and is a team captain on BBC2's 'Nevermind The Buzzcocks' music quiz show. He also had his own comedy a few years ago called 'Sean's Show'. Also he presents his own radio show and a programme called 'Inside Tracks' on the BBC Choice channel. Amsterdam was the city Sean joined in.

Tony Hawks is a comedian/writer in TV and radio. He has two books published. Tony enjoys playing the guitar and he also sings. Eindhoven and Arnhem were the cities Tony traveled in.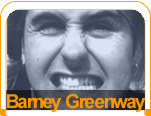 This is Barney Greenway, vocalist with British Grindcore band Napalm Death. They've had many releases and are successful worldwide. Barney says his biggest influence vocally is Lemmy from Motorhead. Barney joined the travelers for Eindhoven and Arnhem.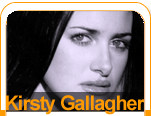 Kirsty Gallagher is a presenter on SkySports.com TV. She is also the daughter of former Ryder Cup captain - Bernard Gallagher. Kirsty didn't stay for long on the journey, only for the city Bruges.

Mel and Sue are a comedy duo who used to present their own series called 'Light Lunch'. They've been in various TV related things. Mel was actually in Rhona's comedy programme called - Rhona. They both joined in Amsterdam.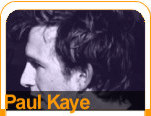 You should definitely know who this delectable man is. Of course, it's Paul Kaye. Paul joined for cities Arnhem and Rotterdam. Whilst in Arnhem on Queen's Day, Paul, backed by the other travelers sang the T.Rex classic '20th Century Boy' on stage to a pissed crowd. He was almost as good as Marc but had a little bit of work to do!

The Journey

"So what actually went on when these randomly thrown together celebrities traveled the eight cities on scooters?" I hear you cry, well worry no more, because below is a tour diary written by me.

First City: Brussels

Belgium-Brussels was the first destination for the gang. Mark firstly met Ralf and Andrew, they hadn't met before but got on fine. Belgium's oldest popstar also met them for a while, Plastic Bertrand (I'm unsure of his real name). Over dinner they listened to Andrew's poem about a girl called Fiona.

Lisa arrives on her pink scooter before meeting the others and tries on various hats in a hat shop. Ralf and Mark meet up with her in the shop and also have fun trying on some for themselves. Lisa's special scooter helmet is delivered, it's a bright pink Penelope Pittstop replica helmet, (matches her bike). Very fetching.

The next location in Brussels is the Marcolini Chocolate Factory, very nice! Mark goes off to visit his friends Reef while they're recording in a Brussels based studio. Meanwhile Plastic takes Ralf on a quick tour. Ralf makes a wish upon a wish-making statue to go out with Lisa Rogers, it worked then!

The first football match is played.

Mark Owen's England vs. The Eurocrats

Score: 5 all

The first visit ends with Ralf showing Mark a self-cleaning toilet. Fascinating stuff.

Second City: Liege

Next, it's Liege and the gang gain their next traveler, Leeroy Thornhill. The first thing they do together is look around their new hotel rooms, most of them are decorated pink and seem quite seedy.

The F1 Race Track is visited by the travelers, while there they drive around it on scooters. Back in the city, Lisa and Andrew make a tour diary, mainly consisting of Andrew playing his didgeredoo with Lisa staring into the camera.

Leeroy, Mark and Ralf get shown around some old mines by a guide and are given some drinks while down them. Afterwards all the gang meet up in the 'Finest Offal Restaurant In Liege', there they have a meal but don't seem to enjoy it, can't blame them. Neatly, Lisa goes off to have her armpits waxed, Ralf and Mark follow her and record the whole thing.

Football Match next.

Mark Owen's England vs. The Republic of Outre-Meuse Score: 4 all

And that ended the trip around Liege.

Third City: Charleroi

Joe Absolom joined the travelers along with John Hegley. The first thing to be done in Charleroi is getting the beers in. Joe and Mark have a few tasters and then go to pick them up, unfortunately they struggle to carry them all. John performs one of his poems at a train station.

The gang join up and visit the football stadium and practice a few techniques. While there they play their next match.

Mark Owen's England vs. The Smurfs.

Score: 2 all

Nextly, John and Leeroy help the chefs cook dinner.

The last thing we see the gang do is visit the funfair. That was Charleroi.

Fourth City: Bruges

Bruges was the next city. Kirsty arrives and has lessons in bell-ringing. 'Hey Jude' is one of the tunes her teacher can play, also the 'Match Of The Day' theme is played. Nick Hayward arrives shortly after.

Leeroy and Mark go shopping for vinyls. Leeroy makes some excellent choices, he buys - Sex Pistols, Ramones, Blondie, Bowie, Boom Town Rats, Talking Heads. Good taste. Meanwhile Ralf and Lisa get some fake tattoos painted on them which look very realistic.

The gang visit the seaside and play their next football match on the sand.

Mark Owen's England vs. Bruges Women.

Score: M.O.E- 5 Women - 2

A successful win for the travelers. Nick and John read their poetry to each other on the beach, one poem written by John is about Mark falling off his scooters into the sand.

The last thing we see the gang do together is go to the arcade. They go bowling and play air-hockey, and that was the end of Bruges.

Fifth City: Eindhoven

Holland - Eindhoven. Barney joins here, they meet up at a prehistoric museum. Back in the city Mark gets spotted and signs autographs for fans. Afterwards he visits the last glass blower in Eindhoven and has a mold taken of his face, this will turn into glass after being worked on.

The football match is next.

Mark Owen's England vs. The Locals

Score: M.O.E 5 - Locals- 3

Another win for Mark's team.

After the football the gang meet a street preacher who goes for a quick ride with them around the city, on scooters of course. Mark goes to collect his glass head mold, and shows it to everyone, they say it doesn't really look much like him. The hotel they're staying in, is apparently 'The world's friendliest hotel'. John disagrees with this as no one who works there will go for a walk with him, he isn't impressed - "Friendly my arse".

Lisa and Ralf go to the football stadium where Lisa cuts his hair in the middle of the pitch. It's the night before Queen's Day (the biggest holiday in Holland), it celebrates the Queen Mother's birthday. Mark gets on stage backed by the others and sings a few songs to a small crowd, a few of them are fans and he meets them afterwards.

That was Eindhoven.

Sixth City: Arnhem

After a bit of a wait, Paul finally joins here. One of the first things he says is "Now where's this guy from Boyzone?". When the gang all join together the first thing they do is look around the Arnhem War Cemetery, it's quite upsetting as over 1300 Allied soldiers died in the battle of Arnhem. Paul and Tony Hawks meet a local historian to be told a bit about Arnhem's past. Unfortunately, they don't find it easy to understand what he's telling them.

They go to a church next, which oddly has a bar inside it. Paul takes advantage of this and orders some Blue Nun and a Bloody Mary (!). They have a look around the church and go up to the tower. While up at the top they ring the bells which aren't exactly quiet.

Back in the city, Lisa and Barney look around the market, it's Queen's Day, April 30th, and they buy cheap presents for the rest of the gang. Barney sings a few songs with a backing band on the stage to a pissed crowd. They seem to enjoy it. Nextly it's 'Tuck Shop', this is the name the travelers have given themselves as a band. They practiced for about an hour in a pub then went straight onto the stage. The crowd are even more drunk by this point but enjoy the songs played by Tuck Shop. Paul plays guitar for a while with Leeroy on drums and Mark sings. Some of the songs played are Pink Floyd's 'Another Brick In The Wall', Beatles 'Hey Jude', John Lennon's 'Imagine' and of course T.Rex's '20th Century Boy', sung by Paul.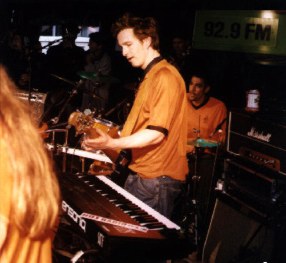 Nextly Paul goes off to visit the synagogue. It's the first time he's been in one for many years. Inside, he explains the layout and what each part is intended for. Meanwhile the rest of the gang play their next footie match.

Mark Owen's England vs. Dutch Paralympic Squad

Score: M.O.E 2 - Dutch - 0

Lisa and Barney hand out their presents bought earlier, Mark gets a Backstreet Boys book, Ralph, a porn book and Leeroy some crap vinyls. They decide to recreate one of the Backstreet Boys poses seen in Mark's book. Back at the synagogue Paul sings some Jewish hymns.

To end Arnhem, Ralf, Lisa and Mark have a picnic. Leeroy, Barney and Tony leave.

Seventh City: Rotterdam

Rotterdam, Holland's second biggest city, is next, it also has the world's biggest and busiest port. The gang ride around on their scooters and then have a kick-around. Paul shows off one of his talents, his ability to appear to run into walls without getting hurt. You may have seen this demonstrated when Pennis was in Cannes? In Cannes he ran into a billboard to get people's attention, it actually worked.

Comedienne Rhona arrives and meets everyone at a restaurant, she enters on a scooter and sings a song to everyone inside the restaurant. After she's finished, a discussion about comedians begins, Eddie Izzard is one of Rhona's favourites.

Nextly, Lisa, Ralf and Mark visit The Euromast, it overlooks the city and is extremely high. Lisa reads her poem to the camera about Rotterdam, and what she thinks about it.

Meanwhile Paul and Rhona go shopping in the city. They visit the fetish store 'Sublime M' where Paul is looking to pick up a zippy balaclava. There's lots of rubber masks etc. inside and Paul and Rhona find it hard not to giggle, Rhona tries on a nurses hat. The item that makes them laugh the most is the transparent toilet, intended for couples to watch each other using it, neither of them really understand it and can't stop laughing. In the end they leave with fetish masks on and travel around the city wearing them. The gang meet up at the stadium and talk through their football strategy. Then, the football match, Paul runs onto the pitch and does his fake run up into the goal post.

Mark Owen's England vs. FC Feyenoord (under 12's)

Score: M.O.E 6 - Under 12's - 4

Mark gives a scooter shaped cake to the under 12's which they all share. The two teams talk football and Paul tries to teach the under 12's to say "I will sign for Arsenal". Don't think it worked though! And that was Rotterdam, Paul leaves here and doesn't appear in the last city.

Eighth City: Amsterdam

The final stop of the journey is Amsterdam. Here Mel and Sue arrive, traveling on bikes, then Sean Hughes meets them in the city. After looking around they all go back to the hotel they are staying in - the 'Winston Hotel' and meet up with the other travelers. The hotel rooms are decorated in a tacky fashion which most of the gang laugh at.

Lisa, Ralf and Mark take to the water in a pedalo together but get a bit lazy, some passers by next to them tow them along for a while. When they get to dry land, Ralf and Lisa have a race jumping across the pedalos, Lisa wins by cheating.

Meanwhile, Rhona and Sean are filming each other around the city, they travel on a tram, with Sean filming just about everything. They have a game of 'spot the drug addict' but Sean isn't doing too well. However he informs the passengers on the tram, that "we are in Amsterdam, we are in Amsterdam" over the speaker, "incase the dopeheads forget" he says.

The final football match is to be played next.

Mark Owen's England vs. The Vespa Club

Score: 1 all

Mark's team remain undefeated, they have never lost, only won or drawn with the opposition. Well done.

It's evening and the gang go to the 'Supper Club' which is Amsterdam's most exclusive restaurant. The meals are served on beds instead of tables and the atmosphere is friendly. Ralf thinks it's pretentious but enjoys it anyway.

Mark and Rhona visit a Coffee Shop which Mark enjoys. Rhona isn't as keen but they have a good time and talk about when Mark used to be in Take That. Meanwhile Mel and Sue are experiencing the city's cafes too. One of which is the oddly named cafe 'Wee Wee'. They then go around filming and ask the public what pets they have in order to see which animal is favoured the most. Sue seems pretty keen on dogs.

A reunion takes place next. Leeroy, Barney, Nick, Kirsty and Joe return to see everyone (no Paul though). They go to a Dutch television programme studio where Mark is being a guest. The others sit in the audience and watch. The show's presenter make Mark do a karaoke with them, singing along to Take That's old single 'How Deep Is Your Love?'. The gang go home and some of them get to keep their scooters, lucky.

That ends the journey, I hope you found my little summery insightful. Look out for the programme being repeated at some point on BBC Choice, I'm sure it will be. There used to be a BBC website for the programme but it's recently been taken down or closed. Never mind.