Special Kaye


2000 Acres Of Sky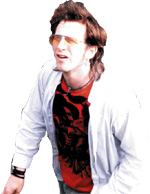 Paul's first serious acting role was playing the lovable Kenny Marsh in the six-part BBC comedy/drama '2000 Acres Of Sky'. The show began New Years Day 2001 on BBC1.
Paul's co-star was Michelle Collins, who plays single mother of two, Abby Wallace. Tired of how little East London has to offer, Abby responds to an advert for a family to come and run the local B&B on an island called Ronansy, She persuades best friend Kenny to pretend to be her husband so the islanders will accept her application. Kenny agrees, partly because he has been in love with her for years, and their will-they-won't-they relationship teases viewers throughout.
Kenny, Abby and Alistair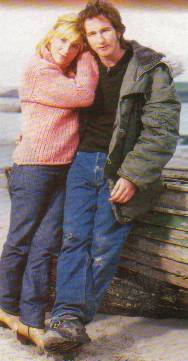 The family's future is jeopardised on many occasions, keeping up the pretense of a married couple proves too hard at times. Slowly but surely, the 'family' get to know the locals and accepted as part of the island's small community. Eventually intense speculation surrounds Kenny and Abby's false marriage and the truth comes out. The islands inhabitants manage to understand and let them stay on the island even though they're not a family. During the course of all these events Abby had fallen for a local fisherman, Alistair, much to Kenny's dismay. Kenny finally declares his love for Abby but it is Alistair who she chooses in the end.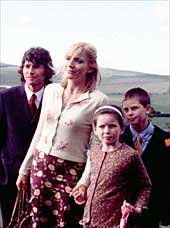 Having Paul play Kenny wasn't a straightforward choice as executive producer Barbara McKissack says: "No one would have naturally put those two together. Having Paul as Kenny was 'Habe I lost my marbles, or is it the best casting decision we've made?' We went with our hearts on this one and Paul proved us right. He and Michelle work incredibly together, totally believable as lifelong friends. Michelle as Abby is such a strong, vibrant presence, so it was important that Kenny was equally strong and not just slavishly in love with her".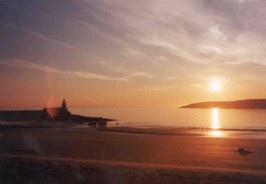 '2000 Acres Of Sky' was shot on location in the remote Scottish island of Port Logan, however, it was renamed to Ronansay for the series. The production company were looking for a fishing village with views of what could be mainland, they found this in Port Logan, and the final location was chosen. The mainland port used in the series was Portpatrick. Other locations used were Dunskey Castle, Drummore and Stranear. The shooting of the series was Dumfries and Galloway's most high-profile to date.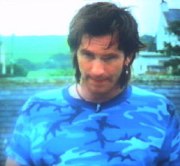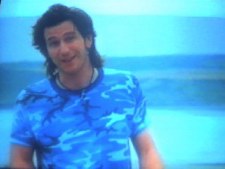 The cast also enjoyed the surrounds while filming.
Michelle Collins:
"It's my first time in the area but I haven't had much time off. The area though is very nice and a big change and I like being on location."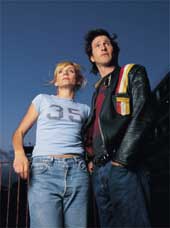 Paul found it equally enjoyable.
Paul: "We were down at the Mull of Galloway filming and that was stunning. I'll certainly try and get back down there because it was a nice place to walk."
"Being in Scotland in that amazing scenery was great. It's a stunning place and we were right next to the water. If it was cold we would light log fires, but still leave the bedroom windows open so we could hear the sea. It sounds corny, but being close to water and fire, well, you can't get much more natural than that. Not that I'm about to go off and start hugging trees - but it definitely awakened something in me".
It wasn't so easy for Paul to travel to Scotland during the Summer.
Paul:
"My only problem in taking part was that I had only just got a season ticket for Arsenal, then I was away for three months".
Paul and some of the other cast who missed football ended up one Saturday afternoon at the Scottish League second division encounter between Styranaer and Queen's Park.
Paul: "It made a great change to be standing on a terrace really close to the action and to the players".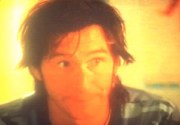 Paul and co. couldn't resist taunting the players.
Paul: "We all stood behind one of the goals and had a marvellous time in the second half winding up the Queen's Park goalkeeper. I think the best bit came at a free-kick when I shouted: 'Are you sure you don't need four people in that defensive wall?' and the goalie shouted back: 'Piss off!' You no longer hear that kind of atmospheric repartee at a big games in England".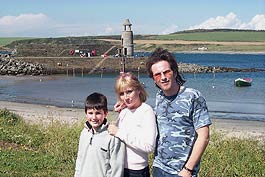 Playing a character such as Kenny was obviously a big change for Paul.
Paul:
"It's been good playing a really likable character. I know I'm capable of doing damn good psychos, but for this I was able to draw on a lot more of myself. It felt like a proper acting job. The biggest problem was learning the lines because my concentration levels are pretty slack. I always left it late, telling myself it was to keep it fresh. Otherwise it was written on Michelle's forehead for close-up. I also had a couple of crying scenes which were a worrying prospect. I'd previously been used to filming in front of about three other people, basically, and there I was on a large drama set being watched by loads of people, all of them expecting me to cry. It was at this point that I began asking myself whether acting was a proper job for a grown man. Thankfully, Michelle was very supportive and the whole experience was most educational".
"It's my first meaty role. It didn't actually dawn on me how big a role it was until I read the script - which is something I didn't actually get round to doing until after I'd been cast. I play a decent bloke, which makes a nice change after only ever having played complete tossers before. As Kenny Marsh, I'm well-meaning and slightly diffident. He has a little glimmer in his mind that one day Abby will realise all the other men on the planet are rotten and she'll turn to him. I'm best pals with Michelle's character Abby, a single mum who's given the chance to flee inner-city London for a new life on a remote Scottish island - so long as she has a stable family".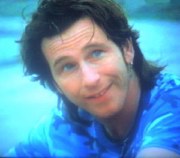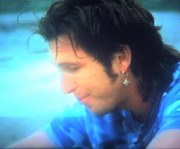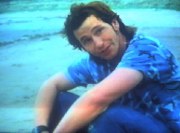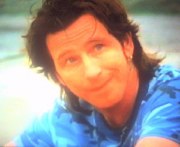 Paul confesses he Pennised Michelle
Paul: "I did Michelle, it was a long time ago, probably one of the very first premieres I did and I can't remember what I said to her - honest".


Below are three reviews of '2000 Acres Of Sky I found.
Opening episode review:
"Presumably aimed at fans of gentle drama with a touch of comedy, such as Hamish Macbeth or even the film Local Hero, this new six-part series stars Michelle Collins. She plays single parent Abby, stuck on a run-down London estate in a dead-end job. Meanwhile, on the tiny Scottish island of Ronansay, the school faces closure if it doesn't get two more pupils, so the inhabitants advertise for a young family to take over the B&B and, simultaneously, keep the school open. You can guess how this works out: Abby and her mate Kenny pretend to be married to each other while battling with the elements and the locals".
Second episode review:
"In the second episode of this amiable drama, Abby, Kenny and the two children are settling down to life on the Scottish island of Ronansay. Sadly, their roof lakes, the plumbing creaks and the fire won't light. The natives aren't that friendly either and have misgivings about the Wallace's and their inner-city ways. "When I came here I thought this island needs a cow. Now I've met her!" screams Michelle Collins's character Abby, sounding not unlike Cindy Beale in EastEnders. But Ronansay is much easier on the eye than Albert Square and the pace of life gentler. Perhaps like Abby, we need to get used to that pace to enjoy the series fully".
Third episode review:
"Abby and Kenny appear to be settling in on the little Scottish island of Ronansay, despite Kenny giving the impression Abby used to work in a topless bar. Still, he redeems himself by wooing a couple of tourists away from Douglas and throwing himself into the role of B&B landlord - albeit a little too enthusiastically. Meanwhile, Abby gets a little too involved with a marital problem - and we don't mean her "pretend marriage" to Kenny - while the lovely Alistair makes a huge sacrifice so that a friend and an ex-employee has the chance to salvage his self-respect".
Cast:
Kenny Marsh - Paul Kaye
Abby Wallace - Michelle Collins
Douglas Raeburn - Michael Carter
Mary Fraser - Monica Gibb
Malcolm Campbell - George Anton
Murdo Campbell - Tom Watson
Carolyn Fraser - Karen Westwood
Gordon - Sean Scanian
Alistair MacLeod - John Straiton
Ida - Sarah Iam
Elizabeth Campbell - Mona Bruce
Helen Kennedy - Joanna Roth
Big Jerry Kennedy - Andy Gray
Alfie Wallace - Philip Dowling
Charley Wallace - Charlotte Graham
Paul Macdonald - Ian Hanmore
Sheena Carlyle - Isabella Jarrett
Little Jerry Kennedy - Jonny Smith
Rebecca - Jan Carey
TV Times 6-12 January 2001 interview by Olly Grant
Beano with Dennis the menace Michelle Collins has always believed in forgiving and forgetting. So why was that resolve put to the test when she met her latest co-star? You could forgive Michelle Collins for looking shocked when she first met Paul Kaye. There she was, at the Pret-a-Porter film premiere in London's trendy West End, all dolled up and ready for a glitzy night out. And there was Paul, trying to shove a microphone in her face, his hair dyed a shocking shade of red, with goofy glasses and a manic glint in his eyes. That was because Paul was posing as his comic creation Dennis Pennis - the most hated celebrity interviewer in showbusiness. It was his job to ambush stars and put them on the spot with offensive but hilarious questions. Now let's fast-forward a bit. The second time Michelle met Paul, he was auditioning for a role in her new six-part drama, Two Thousand Acres Of Sky, which started last week. And this time it was his turn to sweat. 'I was racking my brains to remember how badly I had treated her,' says Paul, looking sheepish. 'I just couldn't remember. And neither could she, which was very good news. Otherwise I wouldn't be sitting here now'.
Too right. The producers were looking for a leading man for the series and Michelle had one of the deciding votes. 'I remember Paul walked into the room and we all knew instantly he was the one,' she says. 'I can't remember what he said to me at that film premiere years ago, but he definitely wasn't as vile as he could have been - otherwise I wouldn't have been nice to him at the read-through.' In the cosy world of TV, actors don't have to get along. But it helps. Good chemistry, as Michelle points out, can make or break a drama. 'There's a strong possibility that this will come back as a second series,' she says, 'but a lot of it depends upon whether people like Paul and me - whether there's electricity between us on screen.'
The 2000 Acres plot works like this: Michelle plays Abby Wallace, a single mum who's desperate to escape a dreary council estate in London for a new life outside the city. One day she stumbles on an advert placed by the villagers of Ronansay, a tiny island off the coast of Scotland. The islanders are looking for a young family to take over the local B&B and bring new blood to their flagging community. Abby doesn't have a man in her life, but she does have Kenny Marsh (enter Paul Kaye). Kenny is her best mate and next-door neighbour. He's a decent bloke, but his life has begun to drift, and there's certainly nothing to keep him in Hackney. So Abby asks him to pretend to be her husband and travel to Ronansay with her two kids. 'I can see where Abby's coming from,' says Michelle, who's a single mum herself. She has a young daughter, Maia, who came up to Scotland for most of the filming. 'As a single mother you go through life having this terrible, guilty feeling all the time. I'm lucky in the sense that I can afford carers, but then you can't buy time with your children.'
Michelle and Paul have very different attitudes to acting. Paul says he doesn't take much of it seriously, that he stumbled into television in the first place, and if you watched Dennis Pennis during its BBC2 run, you'll understand where he's coming from. He once told Hugh Grant his acting was so wooden he thought a chair had been thrown in front of the cameras. When he ran into Cher he asked her, 'Did anyone ever tell you you were beautiful - and mean it?' 'I tried to get my own Pennis off the ground and I couldn't get a single guest,' he laughs. 'I had a list of 250 people and everyone said no. That must mean I was doing something right.'
When Michelle describes Paul, her eyes brighten. 'He's probably like I'd like to be - he's great fun. But he does go a bit AWOL on occasions, whereas I worry about mucking up.' When I tell him about this, he laughs. 'I can't argue with that. I told Michelle right at the beginning, "I don't know what I'm doing and I'm really going to need a hand". She helped me through.'
Pictures taken from www.unmissibletv.com.
Thanks to tintin for the screen grabs!